Great Analog Delay, On the Cheap!
Looking for a good, vintage, analog delay for your pedal board? You can get a legendary early 80's Boss DM-2 for $200 to $300. But why not give the Arion Stereo Analog Delay a try for about $100 or less? The SAD-1 is a surprisingly great analog delay that truly makes it a serious Tone Gem. It's warm. It's quiet. It definitely enhances your sound without robbing your guitar's true tone. The SAD-1 adds depth and definition to whatever I'm playing without changing or coloring the original tone of my guitar.
This one is dead quiet; and it doesn't suck tone. I find myself keeping this pedal on most of the time. I snagged this one, in excellent condition, from ebay seller New Vintage Music (seller ID: new_vintage_music) for a great price. A real bargain and sleeper. So give this Tone Gem a try. I think you'll like it.
This one was built the 30th week of 1985. Not to be confused with the newer Arion SAD-3 pedal, which is made in Sri Lanka.
MN3205 BBD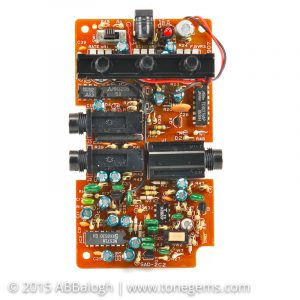 The MN3025 BBD is an analog 16-pin integrated circuit semi-conductor producing a 4,096-stage echo, repeat, or reverberation effect.
GENERAL DESCRIPTION FROM THE DATA SHEET:
The Panasonic MN3205 is a 4,096-stage, low voltage operation (VDD=5V), low noise Bucket Brigade Device (BBD) that provides a signal delay of up to 204.8ms at clock frequency 10K Hz and is suitable for use as reverberation effect of audio equipments such as portable stereo and long delay time since S/N is 67dB in spite of the many stages.

The MN3205 is driven by the MN3102 CMOS Clock Generator.
Function and Controls
Pedal Operation: Press pedal down for the ON position and LED indicator will turn
on. Depress again for OFF position, LED will go off.
Battery Cover: Press both ends marked "PUSH" to lift cover and access battery compartment.
LED Check Light: When shining bright, indicates effect is ON and battery is in good condition.
Input Jack: 1/4-inch mono phone jack from guitar.
Output Jack (OUT 1): 1/4-inch mono phone jack to amplifier.
Output Jack (OUT 2): 1/4-inch mono phone jack to second amplifier for stereo effect.
OUT 2 / Mode Switch: Selector switch for direct out or stereo out.
AC Adapter Jack: Input DC 9-volt, 100mA to 200mA, center pole negative.
Delay: Dial Short to Long. Echo, reverb, slap back. Controls the delay time of the effect, from 50ms to 300ms.
Depth: Dial Min. to Max. Controls to depth of effect.
Repeat: Dial Min to Max. Controls the number of repeats, from one to infinity, as the effect decays.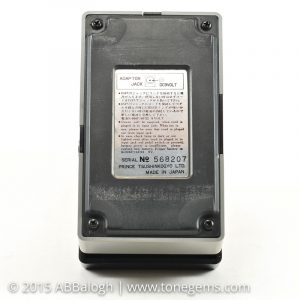 Specifications
Input Impedance: 240K
Load Output Impedance: 10K
Maximum Input Level: -1dB (0dB=1V)
Maximum Output Level: 0dB (0dB=1V)
Noise Level: -65.5dB (0dB=1V Input Short)
Delay Time: 50ms to 300ms
Controls: Depth, Delay, Repeat, Output to Direct or Stereo
Jacks: Mono In; Mono and Stereo Out
Power Requirements: Requires DC 9-volt battery, or AC Adapter, Outer ring Negative
Manufacturer / Country: Prince Tsushinkogyo Ltd. / Japan
Years in Production: 1980's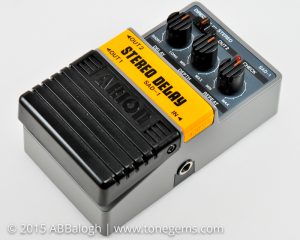 Related Links
The Boss DM-2 analog delay.
Tags
Arion, Analog, Bucket Brigade Device, BBD, Delay, MIJ, MN3205, Japan, Stereo