"A Briefcase Full of Blues" – The World's First All Solid-State Guitar Amp
Quick Info
Summary: 1965 5-watt solid-state combo amp with built-in vibrato effect; 8-inch Alnico speaker; seven Germanium transistors and five Germanium diodes. Point-to-point hand soldered. Perfect little amp for practice or recording.
Pros: Vintage 60′s tone. Extremely compact and portable design. Vintage Germanium transistors and diodes. Simple chassis layout.
Cons: Cheap, lightweight construction and paper-thin fabric covering (but hey, it's lasted this long already).
Surprises: This old school amp designed more like a tube amp than a solid-state amp. The 8-inch Oxford Alnico speaker sounds great! Awesome vintage vibrato circuit.
Value: Street prices vary by condition and demand, but the price of these continues to rise.
Similar Amps: Kay 700, 705 and 706 of similar vintage. It's possible, but not certain, that there may be some similar Kay-built amps with a Truetone (Western Auto) label.
Introducing the Kay Vanguard Series
In 1962, the Kay Musical Instrument Company of Chicago introduced the Vanguard line of guitars and amps. That new line included the Kay Vanguard Amplifier with Vibrato, Model 704 (Model No. K-704). The Vanguard 704, along with other Vanguard amp models 700, 705 and 706, were the world's first mass-produced all-transistor (solid-state) guitar amplifiers. While some transitional hybrid amplifier circuits had previously existed, which paired solid-state electronics with traditional vacuum tubes, Kay was the first company to offer a full line of exclusively solid-state amps to market in '62. The Vanguard 704 was part of that line and was frequently seen offered with the Kay Vanguard solid-body electric guitar.
A marketing advertisement from 1965 says that the K-704 was built with seven transistors and five diodes.
A Compact Design
In contrast to the heavy, boxy, amplifiers of the 1950′s, the engineers at Kay set out to create a new series of amps styled for the Modern Space Age. The new Vanguard Series was designed to be compact, lightweight, sleek in appearance. Finished in a rad two-tone pattern, the tapered vertical design had a top mounted control panel, and a cabinet barely deep enough to house the speaker and chassis. The new look was unique for a guitar amp of the day and remains unique today. However, the lightweight cabinet materials made it more prone to excessive wear and tear. Therefore, not many of these amps have survived.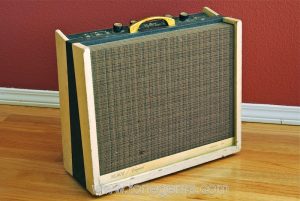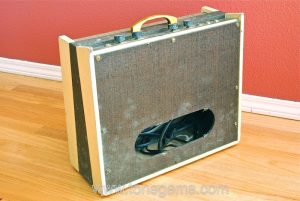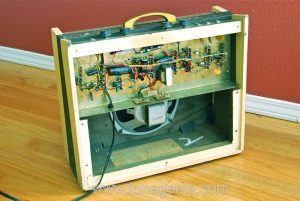 The Controls
The Vanguard 704 features three instrument inputs into a single channel; a volume control and a tone control. The power switch is built into the tone control knob. The vibrato controls include speed, strength, and a jack for a foot switch. A sturdy brass handle is ready to go places.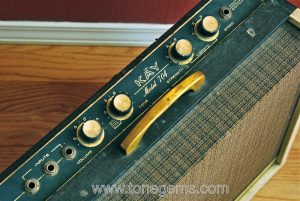 Old Germanium, New technology, Old Circuit Design
What really makes the Vanguard 704 interesting today is its 1960′s Class A amplifier design and chassis layout. Since solid state technology was still relatively new at the time, the Kay engineers built the preamp, vibrato and the output circuits similar to the old tube circuits, except using Germanium transistors and diodes substituted for vacuum tubes. Because of this design the K-704 sounds akin to its tube cousins of the day. Based on traditional tube amp design of that period, the vacuum tubes were replaced in the hand-wired circuits with seven Germanium transistors and four diodes. The old Germanium transistors sound a little "looser" than the newer Silicon versions, which make them perfect for these low wattage amps. However, Germanium never could handle the heat and raw power of higher watt amps. But Germanium still has a following and is used in low voltage applications, like custom built effects pedals.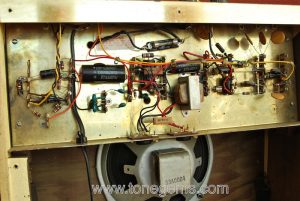 According to the pots, it's a 1965 model. Completely original. A 5-watt wonder. It's circuits and layout are traditional for the period, but seven germanium transistors and four diodes in place of the traditional vacuum tubes. A single front-loaded 8″ Oxford Alnico speaker. Not a whole lot of lower mid-range. But then again, no low end speaker flab either. The tone kinda reminds me of Led Zep. Mild overdrive at full volume from my Gretsch 5120 humbuckers. Growling, howling overdrive from my Silvertone 1445 with Teisco single coils.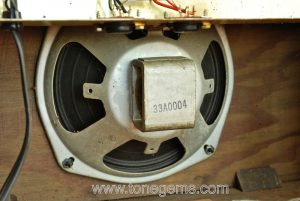 Vibrato, CCR, and The Midnight Special
The vintage Germanium powered vibrato circuit stirs up a deep swirly tremolo that simply sounds awesome. The Kay Vanguard with Vibrato is perfect for nailing that stirring, swelling, sound that Creedence Clearwater Revival played on songs like The Midnight Special and Run Through the Jungle, and other great CCR recordings.
If you are a fan of that vintage 60′s and 70′s tremolo, then this effect alone was worth the price of this unit.
Features
Compact, ready-to-go "suitcase" design.
Two-tone fabric over wood construction.
Five watts output.
7 Germanium transistors.
4 Germanium diodes.
8-inch Oxford "Heavy Duty" Speaker with Alnico magnet.
One channel.
Three inputs.
Vibrato speed and depth controls; foot switch.
Volume and tone controls.
Specifications – Kay 704
| | |
| --- | --- |
| KAY 704 – VANGUARD with VIBRATO | |
| Model Number | 704A |
| Serial Number | 9366 |
| Manufacture Date | 1965 |
| Type | 8″ Combo Amp |
| Output (Peak or RMS) | 5 Watts, Peak |
| Pre-Amp Transistors | 2N2613, 2N408 and 2N591 Ge PNP BJT, RCA USA |
| Vibrato Transistors | 2 ea. 2N408 Ge PNP BJT, RCA USA |
| Power Transistors | 2 ea. 2N545 Ge PNP BJT, Motorola USA |
| Speaker Configuration | 1 x 8″ Rear Loaded |
| Speaker | Oxford 8ES-9 Alnico Magnet |
| Speaker Code | 465-510 (10th month of 1965) |
| Baffle Board | 1/4″ Plywood |
| Impedance | 8 Ohm |
| On-Board Effects | Solid-State Vibrato |
| Footswitch | Yes |
| Controls | Volume & Tone |
| Inputs | 3 Instrument Inputs |
| Channels | 1 |
| Cabinet Construction | 3/8″ Plywood |
| Cabinet Covering/Color | Fabric |
| Dimensions (WxHxD) | 14″x17″x6″ |
| Weight | 8 lbs. |
| Power | 120V AC |
Schematic Diagram and Parts List for the Kay 704A
Original factory schematic diagram as photographed from inside the 704 chassis.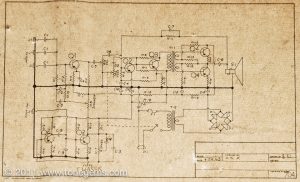 Original factory Bill of Materials (or, "parts list") as photographed from inside the 704 chassis. Notice that transistors Q1, Q2, Q3 and Q4 are all Germanium transistors made in the USA by RCA and Motorola, as well as diode D1.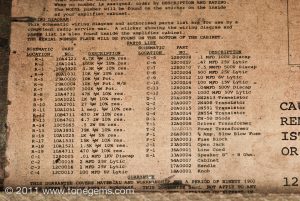 Additional Resources
Links to additional information.
Photos: See more photos here.
Comments
weldon January 1, 2014 at 12:04 am
big gee February 1, 2015 at 1:56 pm