NOTE: This amp in the photo now lives happily with its new owner in Charleston, South Carolina.
Vintage 1971 Sears 10 XL Silvertone 1421 Combo Guitar Tube Amp
The Sears 10 XL was sold through Sears and Roebuck in the late 1960's and early 70's. The 10 XL is a single channel, 10-watt (peak) combo amp for electric guitar with a very cool built-in tube-powered tremolo effect.
This little amp first appeared in the 1969 Sears Catalog as a 10-watt tube-powered amp and, transformed into to a solid-state amp around 1972, and then discontinued in 1973. The label on the rear panel identified this model as Silvertone 257.1421100.
The photo of this little amp looks innocent enough. But don't let the its appearance fool you! This is a serious sleeper of a tube amp, and sounds fantastic. Perfect for your next garage band. And you won't usually find them as nice as this one!
Quick Info
Summary: A 10-watt tube combo with tremolo and 8-inch speaker. Hand-wired. A classic garage amp! Starts out loud and stays there. Comfortable at full volume playing in a garage, but will blow you out of your bedroom. Lots of midrange and natural tube overdrive. Highly responsive and touch sensitive to player's technique; so a talented strummer can get a wide variety of tones and sounds. This amp lives mostly on the treble end of midrange, but depending on the speaker can growl and howl on the low-E notes. Great for classic and indie rock, jazz, blues, country and rockabilly. Use as a practice amp or at small venues. Perfect for recording.
Pluses (+): Vintage 1960's tube sound in an affordable practice amp package. Compact and lightweight. Tube powered tremolo that is other-worldly!
Minuses ( – ): Typical department store construction; lightweight cabinet and vinyl covering (it's a Sears amp!). The original fabric grille cloth was fragile, and therefore most are completely deteriorated by now. Not really loud enough for a big venue, but still perfect for those small and intimate gigs (i.e. coffee shop).
Surprises ( ! ): 1) The 7189 output tube! This is the higher plate voltage version of the EL84 tube found in British valve amps of the 60's; and 2) The 8-inch Oxford Alnico speaker sounds great!
Value ($): Depends on the condition and market demand. I have seen them run from $150 (beat up and not working) to as high as $500 (too much!).
Similar Amps: Unique, nothing else in the Silvertone line is similar. Preamp tube (12AX7) and power tube (7189 version of EL84) used in the 1960's Vox AC4.
The Sears XL Story (as best I know it)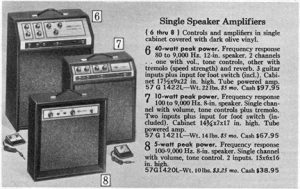 The Sears 10 XL was a member of the Sears XL Series of amplifiers that first appeaed in the late 1960's and ran through the mid-1970's. The XL Series followed the venerable Silvertone 1400 Series (1472, 1482, 1483, 1484, 1485) from the early to mid 1960's. The XL Series ranged from the little 5 XL (3-tubes, 3-watts) to the giant 200 XL (200-watts solid-state).
Before the XL Series, the Sears Silvertone 1400 line up of amps was designed and built by the famously efficient and economical Danelectro Company of Neptune, New Jersey. Danelectro was founded by the pioneering electronics engineer and builder Nathan Daniel. Nate Daniel specialized in building quality musical instruments and gear at reasonable prices. Danelectro built and supplied all the guitar amps to Sears and Roebuck from about 1958 to 1968. In 1966 founder Nate Daniel sold his company to MCA, and unfortunately by 1969, MCA had to shut down the operation and thus the original Danelectro Company no longer existed.
From about 1968 to 1972 the smaller amps in the Sears XL Series (the 5 XL, 10 XL, 40 XL) continued to be hand-wired tube amps. But by 1973 the entire XL line – except for the little 5 XL – had transitioned to all solid-state electronics. Exactly who built these XL amps for Sears remains a uncertain. We have speculated that the 5, 10 and 40 XL's were still built in New Jersey with left-over parts from the defunct Daneletro.
The Chassis
The chassis of the 10 XL is all hand-wired point-to-point electronics with a 6X4 tube rectifier, a 12AX7 preamp tube, a 12AX7 tremolo tube circuit and a single 7189 output power tube. The amp has volume and tone controls, Tremolo speed and intensity controls, two 1/4″ guitar input jacks, and one 1/4″ tremolo foot switch input jack.
The Speaker
The loudspeakers that came in the Sears 10 XL varied throughout production. All speakers were 8-inches in size. But the manufacturer and type of speaker varied. This particular model has an 8-inch speaker made by Oxford with an Alnico magnet, which perfectly compliments the lower output level of the 7189 power tube, and sounds great in this amp. Some other 1421 models were made with speakers from the CTS or Fisher factories, and by my account, those all had ceramic magnets instead of Alnico.
The Baffle Board and Grille Cloth
The baffle board is typical Silvertone quality: 1/8″ pressed board (Masonite). That just helps to establish this amp's personality. The original silver, gold and green sparkle fabric that covers the baffle board is quite delicate, and in most cases rotted away over the years. Thankfully, somehow the original fabric survived on this model.
The 10 XL Photo Gallery
This 10 XL is in fantastic condition for it's age. It even came with the factory original vinyl dust cover and tremolo foot switch. It is all original, except that I replaced a broken power switch, and then replaced the old 2-prong power cord with a safer grounded cord. The tubes, chassis, speaker, cabinet and finish are all in perfect condition — sans for the cigarette-sized hole in the original grille cloth (not by me, it came that way!).
Specifications – Silvertone 1421 (Sears 10XL)
| | |
| --- | --- |
| SEARS 10 XL (SILVERTONE 1421) | |
| Model Number | 257.14211000 |
| Serial Number | None |
| Manufacture Date | April 1971 |
| Type | 8″ Combo |
| Output (Peak or RMS) | 10 Watts, Peak |
| Pre-Amp Tube(s) | 1 x 12AX7 |
| Tremolo Tube(s) | 1 x 12AX7 |
| Power Amp Tube(s | 1 x 7189 |
| Tube Rectifier | 6X4 |
| Speaker | Oxford 8″ Alnico |
| Speaker Code | 465-7118 |
| Speaker Configuration | 1 x 8″ |
| Baffle Board | 1/8″ Masonite |
| Impedance | 4 Ohm |
| On-Board Effects | Tremolo |
| Footswitch | Yes |
| Controls | Volume & Tone |
| Inputs | 2 |
| Channels | 1 |
| Cabinet Construction | 3/8″ Pressed Board |
| Cabinet Covering/Color | Vinyl / Black |
| Dimensions (WxHxD) | 14″x17″x6″ |
| Weight | 10 lbs. |
| Power | 120V AC |
Schematic for Silvertone 1421
Additional Resources
Links to additional information.
More info to come…
Previous comments