Analog Solid-State/Tube Guitar Amp from the 1980's
This page (which is a work in progress) is dedicated to the Music Man 110 RD Fifty guitar amplifier, which I recently had an opportunity to play.
Last weekend I was fortunate to make some new friends, hang out, and play some guitar. I had never met these guys before, but we hit it off right away, and it was a great time had by all. Thank-yous go out to our hosts David B, and his wife Elizabeth, who graciously allowed us to invade their home and make noise until the early hours of the next day. And thanks to the other guys for letting me be part of the group. I had no idea I would be in such good company!
During our Saturday night "jam session" (and I use the term loosely), I had the opportunity to play my '70 Silvertone Mosrite Copy through David's vintage Music Man amp. And boy, what a great amp that was! It was a Music Man 110 RD Fifty. Similar to the one pictured above, minus the grill fabric, it was the perfect match for my old solid body Surf Guitar with Teisco single coil pups. I simply plugged my guitar into this amp and it immediately started playing beautiful big clean tones with just enough added bite and grit. I loved the sound of that amp so much that I decided to dedicate this page to Music Man, and specifically to the 110 RD Fifty.
Thank you, David!
BTW: If you don't know what a Mosrite is, then Google it right now!
Some Background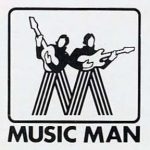 Back in the mid 70's a new music company from Anaheim California, called Music Man, hit the scene. This new company was founded by some former Fender employees: Forrest White, Tom Walker, and most notably Leo Fender. Leo himself designed a new line of amplifiers and a new bass guitar for the company. (BTW: The bass guitar, called The Music Man Stingray, is still around today and sold by the Ernie Ball Company.) Some of you reading this will know more than I about Leo Fender, his second guitar and amp company, his Stingray bass, and the Ernie Ball connection, as I am still learning the facts.
The Music Man amps were designed to be clean and LOUD with lots of headroom! They sounded very "Fenderish" (I wonder why?). According to literature, Music Man amplifiers were a unique hybrid design, employing solid-state electronics for the preamp stage, and tubes for the output. Apparently, the 12AX7 tube in the preamp stage is just for the distortion only, but I'm not exactly sure about that? The amps were big on power and built like tanks, to handle the difficult task of traveling professional musicians. Music Man produced amps in several sizes (65-watt, 135-watt, 150-watt) and configurations (combos, heads, cabs).
The Fifty Series
The Fifty series was introduced in the early 1980's. The Fifty series included heads and cabs, as well as small combos that had either 10-inch or 12-inch speakers. These amps were packaged different ways. Some had a built-in distortion effect; others had a phaser; but all had real spring reverbs.
The 110 Combo with Reverb and Distortion (RD)
The 110 RD is a compact (but heavy!) 50-watt single-channel combo, with a 10-inch Ceramic speaker, reverb and distortion effects. I read that the designers of the amp were aiming for a clean tone similar to a Fender Blackface Deluxe Reverb, and apparently they hit the target!


Specs for the Music Man 110 RD Fifty
| | |
| --- | --- |
| Mfr: | Music Man, Anaheim California |
| Series: | Fifty |
| Model #: | 110-RD-50 |
| Chassis: | 1650RD |
| Power: | 50-watts RMS |
| Speaker: | 1×10-inch, Ceramic Magnet |
| Tubes: | Preamp: 12AX7; Output: 2x6L6GC's |
| Effects: | 3-spring Reverb; Distortion |
| Accessories: | 2-Button Foot Switch |
| Years: | 1981-1983 |
Schematics for Music Man RD Fifty
Version A
Version B
A Bit More Character
Now the one I played had a woven wire mesh front grill, so it looked more like this one. But that just added to its character.
More Links
As I work to gather more info about the company and their products, here are some links:
More later (to be continued…)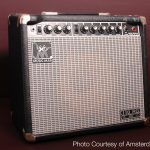 Comments
Previous Comments