A Vintage 1970 Silvertone MIJ Copy of the Mosrite Guitar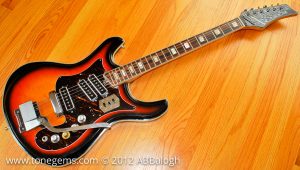 This crazy looking solid-body electric guitar is ready to play surf, jazz, classic rock or county, and is simply a kick to play! The exquisite Silvertone 1445 (I mean, by dept. store standards of course) was hand-crafted by Teisco in Japan for Sears. The body style is an excellent Teisco version of the 1960's Mosrite of California guitar played by rock Hall-of-Famers, The Ventures (Walk, Don't Run and Hawaii Five-O).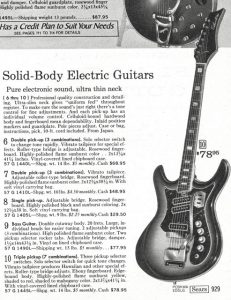 The Silvertone 1445 first appeared in the Sears catalog in 1968, and hung around in a few variations through the early 1970's. It has three very loud single-coil ("Hound Dog") pickups wired in series just like the old Danelecto models. The fast, low-profile solid Maple neck with Rosewood fingerboard sports medium to low action and is easy to play. The growling Teisco "Hound Dog" single-coils have lots of bite, and the solid poplar body has plenty of sustain. Of course, the single-coils and non-shielded wiring can be a bit noisy if you're not careful, but easy to avoid. And I must say that the hand-painted sunburst finish over the flamed Maple; the contoured German carve body with tortoise shell pickguard; and intricate triple-layer celluloid binding makes this guitar a stunning sight to see.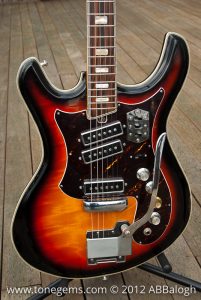 The 1445 represents the pinnacle of Teisco's contribution to the Sears Silvertone line. All high quality materials and workmanship. It has the following specifications and features:
Body: Morite-style, celluloid bound, fully contoured, flamed Maple over basswood with German carve; sunburst (yellow-red-mahogany) high gloss polyurethane finish; tortoise shell celluloid pickguard.
Neck: Bolt-on solid Maple neck with Brazilian(?) Rosewood fretboard, Pearloid block inlays and triple bound celluloid edge (w/b/w); 25½″; 22 frets with zero fret; 1-5⁄8″ at nut.
Pickups: Three Teisco single coil "Hound Dog" pups wired in series (loud, louder, loudest); 3 slide switches plus tone boost switch for 7 pup combinations; 3 volumes and 1 master tone control.
Headstock: Solid Maple; black nitro-lacquer finish; block style logo.
Tuners: 6 in line; sealed; made in Japan.
Vibrato: Teisco tremolo bar.
Bridge: Teisco adjustable roller bridge; chrome cover.
Dimensions: Length 41½″; Body 19″; Upper Bout 12½″; Lower Bout 14½″; Thickness 2″ at base of neck.
The Silvertone 1445 Photo Gallery
Here are some photos of the 1445 taken with the Silvertone 1421 (Sears 10XL). The 1421 is a 10-watt tube amp that was also offered by Sears around the same time. These two instruments were often bundled and sold together as a set around Christmas time (the Sears Wishbook).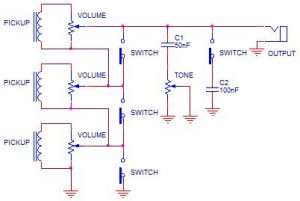 Special thanks to Randy (randoid.com) for helping fix the electronics and getting it back into stock, playing condition!
Keywords: Sears, Silvertone, 1445, Mosrite, Surf uitar, Teisco
Hashtags: #tonegems #silvertone #silvertone1445 #mosrite #surfguitar #teisco
Comments
Previous Comments