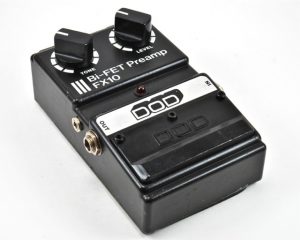 [This is an update to an earlier post. Since then we have done some more testing of this unit with different instruments and amplifiers.]
I was looking for a good analog pedal to overdrive my tube amp without loosing that "great Gretsch sound" of my Electromatic. The DOD FX10 was originally built as a preamp for acoustic guitars, but I had read some pretty good things about using the FX10 as a clean boost, so thought I'd give it a try. I ordered this one online from Studio 1525 (BTW: Studio 1525 has a huge selection of vintage pedals). According to the America's Pedal web site, the FX line of pedals was first introduced by DOD in 1982, and the FX10 was part of the first group of FX pedals released that year. It remained in production through the mid-1990's. According to the date code on this FX10's pots, it was made in 1983. This sample is the original version that has the really cool larger knobs, similar to some other respected DOD pedals of that era.
DOD FX10 Specifications
Gain of +17 Decibels
Controls: Level and Tone (CTS pots)
Jacks: ¼" In and Out
Construction: Die Cast Metal Box
IC: TL062 Dual Op Amp, TI Malaysia
JFET: Two J113's
Bypass Switch: CMOS 4007
Power: 9-volt battery or PS125 (10VDC)
Mfrd: 1983 in USA
Dimensions: 3″x5″x1½"
Serial No: FX216329
How does it sound?
Others have reported more success with this pedal than I have been able to achieve. It does perform OK on a guitar amp when both controls are kept between 0 and 6 (up to about 2 o'clock on the dial). But above those levels it will add a significant amounts of noise.
Originally, I tested this unit with an old Silvertone tube amp. Initially I was disappointed, because, even though the pedal boosted the amp into overdrive, it was pretty noisy and thickened my guitar's tone more than desired. But that could have been due to the minimal (or no) shielding in the old tube amp. So I took the pedal out of chain and set it aside for awhile.
Later, I tested this pedal on a solid-state Univox bass amp and it really did a good job of boosting the signal without changing the original tone of the guitar. And unlike before, it barely added any signal noise into the chain of effects. So obviously the combination of equipment makes a big difference.
More photos…
Additional online resources for the DOD 10FX:
Shop: Studio 1525 Preamps
Shop: Search ebay for DOD FX10
More Info: America's Pedal
More Info: DiscoFreq's Effects Database