1965 Vox Berkeley Super Reverb Twin
This page is a work in progress, but we're very excited to bring you this historic amplifier!
| | |
| --- | --- |
| NAME: | VOX Berkeley Super Reverb Twin (SRT) electric guitar amplifier |
| MODEL: | V8 |
| MFR: | VOX USA (Thomas Organ) |
| ORIGIN: | Sepulveda, California |
| DATE: | 1965 |
| POWER: | 17 Watts RMS, according to the Mfr. |
| REVERB: | Tube-driven 2-spring Gibbs (Hammond) Tank |
| TREMOLO: | VOX tremolo circuit |
| VALVES: | 12AX7 preamps; 12AU7 reverb; 12AX7 tremolo, two (2) EL84's output |
| RECTIFIER: | EZ81 Valve |
| SPEAKERS: | Pair of Weber (USA) 10-inch Blue Alnicos replaced the worn out Bulldogs |
1965. The Beatles. Vox. What more can you say?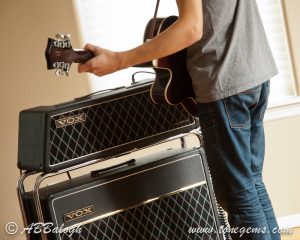 This 1965 model Berkeley is the original all-valve (tube) powered version that Thomas Organ produced in Sepulveda, California n small numbers from late 1965 through mid 1966. This one was partially restored by its owner "65mosrite," giving it some fresh outer cosmetics (obtained from North Coast Music, of course), and some re-wiring and replacement of resistors and capacitors where needed.
I was fortunate enough to buy this amp from Richard H. (aka: 65mosrite), and couldn't be happier.
North Coast Music, who runs The Vox Showroom, has some excellent data and stories related to the famous amplifier. I have provide some links to those pages below.
The Berkeley SRT Gallery
The Beatles and their VOX Amps
Video
Here is a video by 65mosrite, who worked to restore this awesome amp!

External Links
Excellent page from The Vox Showroom: The Vox Berkeley Amp
And another: The Vox Berkeley Super Reverb Tube Amp Head – Model V-8