The Leaves, an American garage rock band from the 1960s
The Leaves were an American rock 'n' roll 'garage band' hailing from San Fernando, California. They started out as one of the first successful 'garage bands' of the 1960s, actively performing from the mid-60s through the early '70s. They were extremely popular on the local music scene in Southern California, and were the first artists to have a hit with Billy Roberts' now classic song 'Hey Joe' in 1966.
Too Many People
The Leaves first hit was the single, Too Many People in 1965. It became huge hit in Southern California and opened doors for them to bigger stages and venues.
Video: Too Many People

Hey Joe
In November 1965, they recorded Hey Joe, Where You Gonna Go as a single, and it was released on the Mira Records label.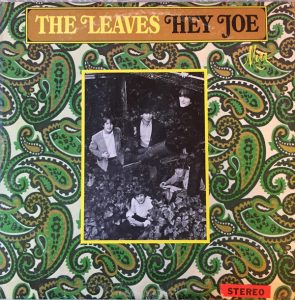 While recording the song, they employed a newly invented guitar effect called the 'fuzz tone'—using a Maestro FZ-1 pedal created by Gibson Guitar. While The Leaves use of the the fuzz tone was fairly mild, the Rolling Stones would soon feature the Maestro pedal on their huge hit Satisfaction.
Video: Hey Joe, Where You Gonna Go (Enhanced)

Video: Hey Joe, Where You Gonna Go (Live)

The Record
Hey Joe, search for the original vinyl album on eBay: ebay | music | records | the leaves
More
The Leaves: Wikipedia
Hey Joe, an album by The Leaves: Wikipedia
Hey Joe, album by The Leaves: Discogs
Comments