PORTLAND, OREGON – OCTOBER 22, 1957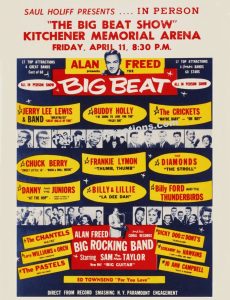 Buddy Holly and The Crickets arrived in Portland, Oregon to appear live on High Time, a local TV teen dance show, and performed that night at the Paramount Theater along with an all-star cast as part of the Biggest Show of Stars '57, which included Fats Domino, Everly Brothers, Paul Anka, Chuck Berry, Frankie Lyman, The Drifters.
Read more about that day the Biggest Show of Stars '57 arrived in Portland in this blog post from Oregon Live (The Oregonian): The Day the Music Died: Buddy Holly played Portland in 1957 (or did he?).
Buddy Holly & Crickets on KPTV Channel 12