February 2, 1959
The Winter Dance Party Arrives in Clear Lake, Iowa
On this frozen night in 1959 the Winter Dance Party, featuring headliners Buddy Holly and the Crickets, arrived at the Surf Ballroom in Clear Lake, Iowa. The show also included Frankie Sardo, Dion and the Belmonts, J.P. "The Big Bopper" Richardson, and new teen sensation Ritchie Valens.
By the time the tour bus pulled into Clear Lake, Buddy Holly was frosted by the bitter Mid-West weather, and frustrated by all the breakdowns along the way. To avoid another long cold bus ride after the show, Holly decided to charter a plane to take himself and the Crickets to the next stop in Moorhead, Minnesota.
The Surf Ballroom had not been a scheduled stop on the tour, but show's promoters, hoping to fill an open date, called Surf Ballroom manager Carroll Anderson and offered him the show.
The photo above is of Buddy Holly performing his last show on the stage of the Surf Ballroom. Also pictured here are Waylon Jennings on bass guitar and Tommy Allsup on rhythm guitar.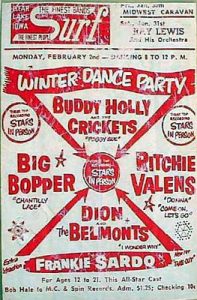 Hashtags: #BuddyHolly #Crickets #WinterDanceTour #SurfBallroom #ClearLake #Iowa #BigBopper #RitchieValens