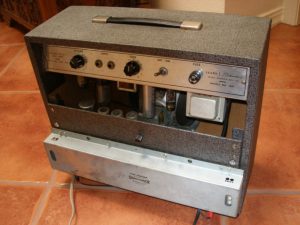 Holy crap! What an incredible find. Someone is selling on eBay a mid-1960′s Silvertone 1481 tube amp, brand new in the original box. That's crazy! Original Silvertone tubes inside. Complete with original papers and Owner's Manual. Even has the original shipping label on the box from the Danelectro factory in Neptune NJ to Sears Roebuck store in Newington Connecticut.
The 1481 was the smallest combo tube amp of the Silvertone family at that time. It was the poor man's version of the Fender Champ, with one 6V6 tube putting out 7-watts to a single 8-inch Alnico speaker. According to Silvertoneworld.com, the 1481 was a cosmetic replacement to the earlier 1471 and was offered in the Sears catalog up through 1968. It was made in Neptune, New Jersey by Danelectro.
Link to eBay auction: 1960′S SILVERTONE AMP MODEL 1481 NEW IN BOX DAN ELECTRO
Original shipping label from Neptune, New Jersey: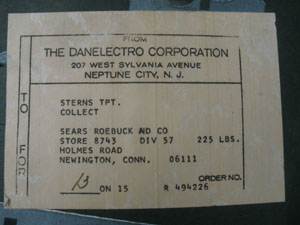 UPDATE: This auction has ended. The amp sold for $610.