Now on eBay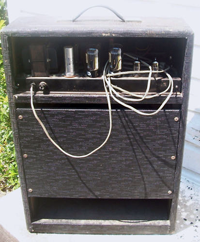 I don't know the seller or endorse the product, but here is a cool late 60′s bass amp built by Valco for Gretsch. Solid-state rectifier, 12AX7 preamp tubes (I believe?), 6L6 output tubes and a Jensen 15-inch speaker. I have not heard these amps myself, but the seller claims they are similar to the Supro Thunderbolt, which was used by Jimmy Page and Brian Setzer.
Check it out here. Search for more here.
UPDATE: This amp sold for $400.